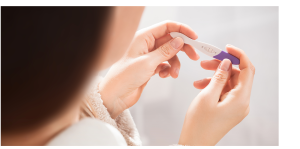 Do You Think You Might Be P

regnant

?

Are you experiencing early pregnancy symptoms?  We Care offers no cost, confidential pregnancy tests and ultrasounds for pregnancy confirmation.  Our pregnancy tests are medical quality, highly sensitive, and provide quick, painless results during your visit to our clinic.  The tests detect the presence of hCG (human chorionic gonadotropin), a hormone which circulates in a pregnant woman's body, shortly after fertilization and is released in urine.
When To Take A Pregnancy Test
The best time to take a test is at least one week after a missed period.  The amount of hCG present in a pregnant woman's urine increases with time.  Waiting one week after a missed period will usually give a more accurate result.  Although it's possible to get a positive result sooner, your chances of receiving a false negative result increase if you take a test too soon.  Many pregnant women receive a negative test result during the first few days after a missed period.  It's a good idea to repeat a negative test again after a week has passed.  
Home Pregnancy Tests
Although over-the-counter home tests are accurate, there is still a slight chance the results could be wrong.  Taking a test too early or not following directions correctly can impact the accuracy of your test results.  
My Pregnancy Test Is Positive.  What Is Next?
A positive pregnancy test result can leave you with a rush of emotions, thoughts, and feelings.  You don't have to face this alone.  Let us walk beside you on this journey.  We can help by providing a no cost pregnancy test, ultrasound confirmation, and answers to your questions.  We have free resources available to you and information concerning abortion, pregnancy, parenting, and adoption.
Call (815) 748-4242 or text (815) 780-9097 today to schedule an appointment.
We're ready to offer confidential care and support.  You can discuss your options with us with absolutely no pressure.